Welcome to Carolina Driving School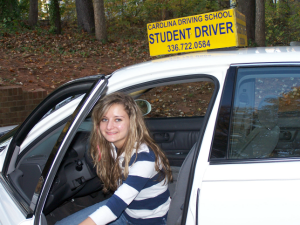 Few things in life offer more satisfaction than the freedom to drive. This is a milestone in a person's life, young or old, that is more important than just about anything else. It's also a milestone that one needs to be prepared for, otherwise it can be a dangerous endeavor if one doesn't know they're doing. Additionally, for those who have already crossed this milestone, and lost their driving skills and/or privileges, there's a need to regain their driving license and freedom again.
No matter who you are, driving is a big deal and you would greatly benefit by contacting us, at the Carolina Driving School. We offer a variety of different services, for students in schools and people of all ages, to prepare for driving on the road. Regardless, if you learn better in a classroom or through hands-on driving experience, you could greatly benefit from our driving classes and training. We are here to help you learn how to drive or even to improve your driving.
At the Carolina Driving School, we provide everything from classes to help get your first driver's permit. . .to classes that can actually save money on car insurance and are endorsed by the AAA. Some of our services include:
Permit Training
Driving Evaluations
Safe Driving Classes
On Road Lessons for All Ages
We service and help people of all ages here. If you are between the ages of 14 and 90, we have a program that could benefit you!
We're located in North Central NC.  And although we're conveniently accessible from the surrounding communities of Greensboro, Winston-Salem, HighPoint, Thomasville, Burlington and Durham – we've helped schools students from all across North Carolina, Virginia and throughout the US.
Call us to schedule your appointment: (336) 515-0584